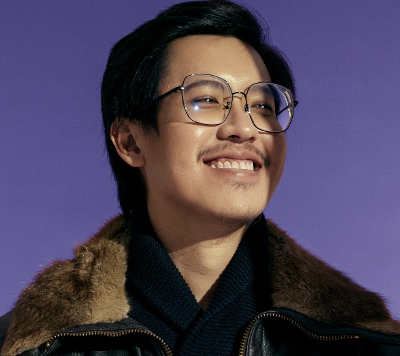 Hun Ming Kwang-Practical Manifestations
Lecture: SAT OCT 8, 12 NOON, RM 315Everyday Magic for Practical Manifestations
  The concepts of magic and consciousness itself remain to be an intriguing subject today. The highest form of magic is about manifesting something out of thin air. More often than not, people get drawn to these lofty ambitions without mastering their foundations. Without clear intentions and solid foundations, one can easily lose themselves in the process of that.                                                                                                                               What is the distinction between white and black? What is the distinction between gold and pearlescent? What are magic of the highest form of all good?
   Our ability to make things happen in life stems from our intentions, awareness and consciousness, fundamentally. How can we be in alignment with who we truly are deep down inside of us and be able to express that powerfully externally? How do we master our awareness and consciousness at an elevated level that serve us in our purpose and destiny? More importantly, our daily practical uses.
Workshop:SAT, OCT 8   3PM, RM 301/302                                                                                                                               RISING ABOVE
Limiting beliefs hold us back from our path, purpose, and destiny. They stop us from doing what is necessary for our highest good. "I don't feel good enough", "I am slow", "I'm too tired to get my chores done", "Money is the root of all evil". We inherited many of these beliefs from the limitations and incompletions in our environment – family and friends who influenced our thoughts and perspectives as we were growing up. Over time, these thoughts were amplified and reinforced, informing your actions and becoming a part of who you are. We have to clear our limiting beliefs from our path so that we can lead a meaningful and extraordinary life.
Lecture: SUNDAY OCT 9, 3PM HALL DAwakening Higher Consciousness and Awareness
"Who am I?  Where do I come from? What is my purpose and deepest calling? Where do I go next?"
   These are the questions that all men and women have been asking since the start of civilisation. Many have gone through extensive lengths to uncover the truth, be it of our existence or purpose. In this lecture, Master Spiritual Teacher Hun Ming Kwang will provide greater clarity and frameworks for the individual to connect and inquire into what truly matters to them in their soul. Access different dimensions, powers, truths within you to lead your path. Learn what it takes to be ready so that you can step onto your purpose.      Rise above and transcend your limiting beliefs through the frameworks and healing taught by Consciousness Master Teacher Hun Ming Kwang.
Workshop: SUNDAY OCT 9   5PM RM 301/302                                              Mystery Class
What will we explore, discover, and learn in this class? It's still a mystery now! This special class will be designed LIVE, based on the dynamics and energies of the participants in the class.   This class is put together by Master Spiritual Teacher Hun Ming Kwang, who is also the apprentice of Starr Fuentes, lineage holder of the unbroken Mayan Lineage that originated in South-Eastern Mexico. Journey together with Source in a spontaneous adventure through this 2 hour workshop, and dive deeper into your truth and hidden potential. At the end, what's certain is that Source will guide us to where we each need to be for our greatest good.
Hun Ming Kwang is a highly sought human catalyst, changemaker, and thought leader. As a globally recognized spiritual and inner work teacher, master healer, and ICF professional life coach, he has trained and helped over 10,000 individuals, including C-suite leaders and politicians to transform and attain a higher level of awareness to manifest their purpose and destiny. Initiated onto his path of mastery through long lineages of masters, healers, curanderos, shamans, high priests, lamas, and esoteric arts across globe, he is also a direct pupil and apprentice of Starr Fuentes and the keeper of the 13 Master Skulls in the world. As a miracle maker who had been documented for his work and renowned for his laser cutting edge abilities to get to the root of all things and connect individuals to Source, Ming Kwang brings with him the wealth of teachings and techniques, from modern psychological processes to ancient healing and shamanistic traditions, capable of healing chronic diseases and cancer, waking coma patients up, and alleviating sufferings of all kinds at physical, emotional, mental, energetic, spiritual, and soul levels. mingkwang115@gmail.com      www.hunmingkwang.com       www.crystalskullschool.com